I love giveaway and I am taking part in Shayaaron Avocado & Cake giveaway, you can take part too.

To see more head to Shayaaron's Etsy shop!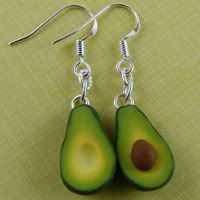 Here is a chance to win TWO of items in Shayaaron's Etsy Shop: Avocado Earrings + Pink/Yellow Layered Cake Earrings!
Giveaway ends on 29 Jan, 2010.
To take part just click on above link.
Good luck.